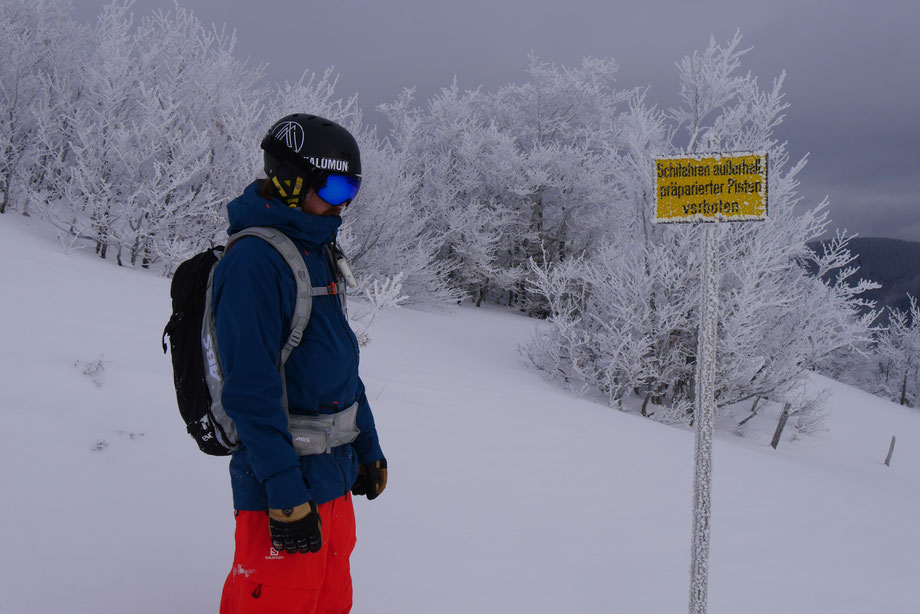 Finally it started to snow! After a decade of dry weather (or at least it felt like it), of course every powder addict was excited and with our powder rider instincts no one could hold back and we were all desperate to get those fresh first lines! Unfortunately this was very short lived.. with zero snowfall beforehand this was just a base coat or more so a dusting of the white stuff, hardly enough to go riding in the "pow".
But finally after the little pre dusting of snow and a looooong wait (or so it felt like it)! On Saturday and Sunday we had massive snowfall roughly around 80cm and this amount of course gave us enough for our fist proper off piste action of the season, and just in time so we could test our new Open Wear 'One' jackets.
Visibility was bad, -24˚C, strong winds and a high avalanche level... but thats how we like it, so the only chance we had was in lower altitude terrain, sticking to the tree lines so that we could have some kind of visibility.
We decided to go back to our roots and to a resort where we had played around as kids, completely forgetting how much fun we could still have in this small resort! And due to some difficulties with their investor the resort had just opened up the very same day we decided to go, which was amazing for us since everything was completely untracked! Not a single track was laid which to us was as exciting as being the first man to step out onto the moon (or so we imagine haha.) Because it was so f*** cold the powder was super fluffy, this in combination with the open forrest reminded me a lot of powder riding in  Japan where we had been the year before. This was one of the best days snowboarding we've had in a long time and snow conditions were incredible! This winter (like the last few) arrived fashionably late, but at least it arrived with amazing style! we know and well as so many others like us we are praying to get that amount of snowfall throughout this winter season!
stay safe! 
Gerwin & Markus