The weekend just passed was the weekend of the 'Hahnenkamm Race' in Kitzbühel, where they spend over 1 week preparing the racecourse. Which means that there is absolutely no one riding powder! 
The week before it had snowed over 80cm and the peak holiday season had ended, and meant that the following days/weeks had great potential. Sunshine was forecasted for the whole week, the only downer being that there was a high avalanche level (3 out of 5).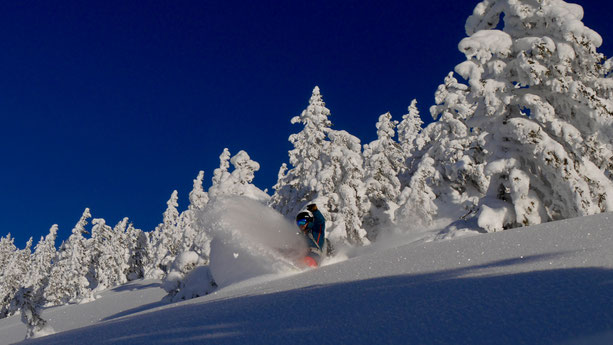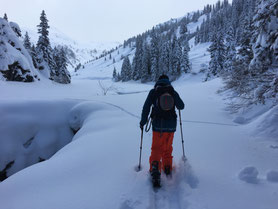 First day of sunshine and the first tour of the week; We planned to hike up the Sinterbachtal on the Kuhwildkaser ending up on the west side. This way we could spy on the Sinterbachtal for future tours... Bad Idea!! The hike up to the Sinterbach Alm was long and steep, through the forrest with no possibility to snowboard down. But as we eventually made it to the Alm a valley opened up with amazing scenery and not one single track anywhere!
As the tour took longer then we have first expected we decided to hike up without a break. As we started the hike on the last face (east aprox. 30˚), we heard a splitboarders worst nightmare... A "wuummmm" sound (This is a high alert sign, as it occurs when weak layers of now collapse --> high avalanche danger). This gave us only one option and that was to turn around without hesitation! This forced us to "ski" down (with the skins attached to our splitboards) all the way down the route we had taken up. On the "ski" down we heard the sound twice again, safe to say we made the right decision!
Day 2;
The next day we were guiding a group of snowboarders, with many different options in mind we wanted to see where we could get the best powder (of course).
We decided on 'Bichlalm'  a one chairlift side resort with only two pistes down, probably the best decision we could've made!
The sun was out, Snow was incredible and there were no other people in sight! It was just one of those days everything works out... Which was very welcome after the day before. 
stay safe! 
Gerwin