Welcome to the ISPO Experience!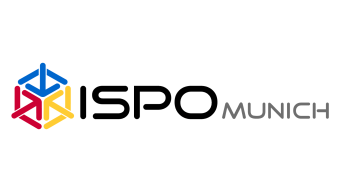 Our journey!
After meeting in Rosenheim to sort out our carpool - our destination was the ISPO Exhibition in Munich.
We had planned to meet up with our Splitboard-camps.at partners, sponsors and friends. Like little Boys at Christmas we wanted to find out what 2017/18 will bring.
New products, toys, gadgets and perhaps make new friends and partners.
With our smooth drive almost behind us and on the search of a parking spot, we got pulled over!!
After a little chat with two lovely Police guys we were soon on the hunt for a parking place again.
The arrival!
Once we had found the ever so rare parking spot, we got greeted with the ever to common door cue.
We used our waiting time to polish up the strategic plan we had of where to go and who to see.
Luckily we had a plan as once through the doors it was like being lost in a sea of shiny new inventions, busy retailers, distributors, buyers, sellers, press and all kind of visitors.
With our noses in the Exhibition map we slowly dived into the consumer madness.
Reading a Topographical map and planning a splitboard tour is easier than finding our way in the flooded halls of stands, people and products! 
The mission...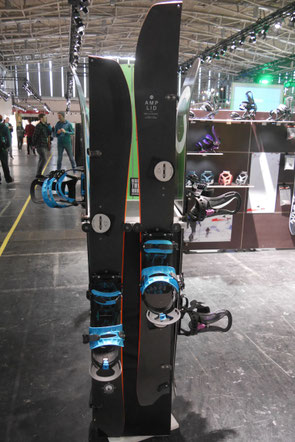 The first goal was to say hello to sponsors and partners.  With new 2017/18 products everywhere we wanted to see what was new from our favourite Brands, talk about future projects and how we can make ideas and thoughts come true.
First stop - Mammut.
Mammut was our ''go to brand'' for LVS and we are lucky to say we ride with their Avalanche Safety equipment for our camps.  We had a good look and test with the new Barryvox S.  Mammuts 17/18 top model Beacon.  Easy and quick to use it makes the search much faster.  Thats what we wan't for riding safe in the backcountry.  
Next stop- Amplid & Pally'Hi.
With a warm hello and a big hug we found our mate and head of sales from Amplid, who I'm proud to have as my sponsor and partner.  As time was against us both, we just had a little chat and a high five before we went on to meet another super nice guy, the manager from Pally'Hi.  Over coffee and a seat we shared some ideas and business plans and had a look at the very sexy 17/18 product range.
continued...
As all good things come to an end, we unfortunately had to move on to the next appointments.  So Gerwin and I separated.  Gerwin headed to his resin dealer for his 2nd business, shaping surfboards.  Then off to Salomon who we can proudly say are also our sponsors and partners.   
I was so overwhelmed by the hectic scramble and appointments, I had completely forgotten to eat and drink.  My blood sugar level went into the basement.  Refreshed with a quite overpriced cheesroll and a drink, I made my way to Northwave boots and Union bindings.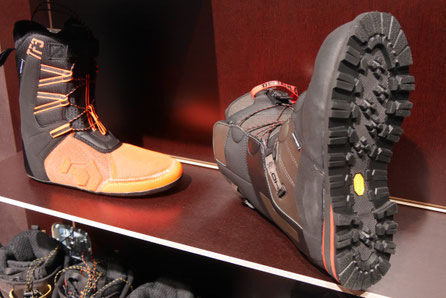 to peak time...
As I finally arrived at Northwave, my eyes where straight away drawn to the new Domain CR.  The splitboard mountaineering boot -  with a crampon compatible sole, sexy slim shape and super light weight.
After a informative chat about the new product range we made a new friendship and a cheeky little deal.   Happily satisfied and with a grin on my face I went on to the next stop - Union Bindings and their new splitboard-binding and system, well not so new.  It was a system from splitsticks, but now  upgraded and compatible with all splitboards.  I had a great chat with the Austrian sales manager and was introduced to the new ''forged carbon split binding''  and system.  Can't wait to test this babe out.  With new relationships formed and excited I made my way to Salomon to reunite again with my business partner.
to the final ending!!
It was quite a walk to get to Salomon.  My hunger and thirst kicked in again.  So I picked something up on the way to help me through the last part of the day.
The Salomon booth was packed and my buddy was right in the middle talking to his Salomon colleagues. We had a look at the new 17/18 snowboard and splitboard collection.
After exchanging ideas and plans with Salomon, we made our way together to the last stop of the day.  
This was to the guys that design and make the jackets we proudly wear - Open Wear.
We exchanged opinions, ideas and plans for a further partnership involving their high quality jacket and their brand.  Open Wear are also designing trousers for their new range, which i'm really excited about, so keep your eyes open.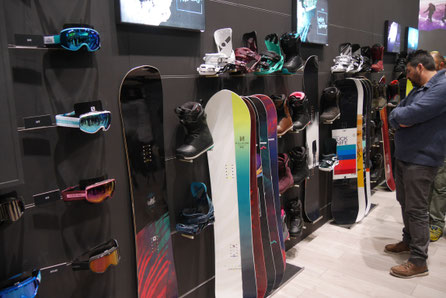 The way home
Completely exhausted and tired, but excited about new relationships, old relationships and what next year will bring.  We finally got back to the car in the dark.  
We were just about to leave the parking place and suddenly we had to stop the car.  Yet again we met two really helpful police guys from Munich.  With a "Danke" and "Drive safe"  we were back on the road to Rosenheim, where the 2nd car was parked.
On the journey we talked about the days events, our plans and ideas for future things to come.
All together it was a successful but a crazy day.  Honestly i'm a little afraid of next year's craziness!! ;)
Stay tuned for further blog's and happenings!!
Love&Peace
Markus