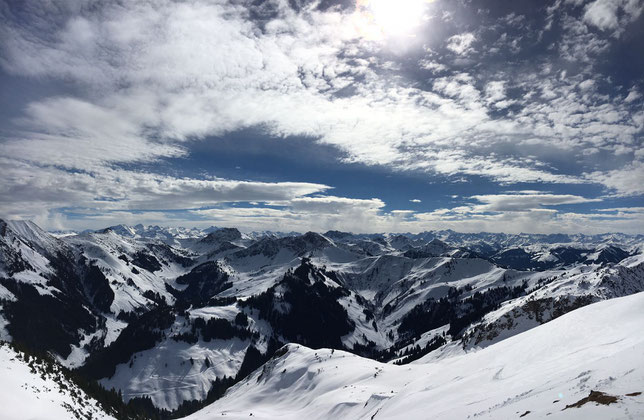 In the last 2 days the Beginner Splitboard Camp took place at Jochberg and Bichlalm.  Despite the mixed snow conditions and spring like temperatures we started the day very exited at 9 o'clock in the morning.  After taking the Gondola up to the top, the first run was some nice and easy turns on the slope, to get used to riding the splitboard- material.  Our destination was the Zweitausender lift.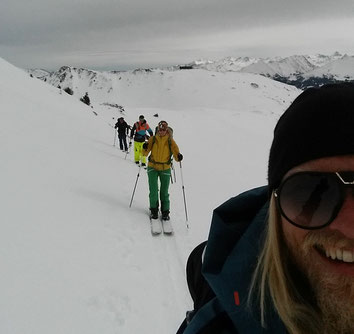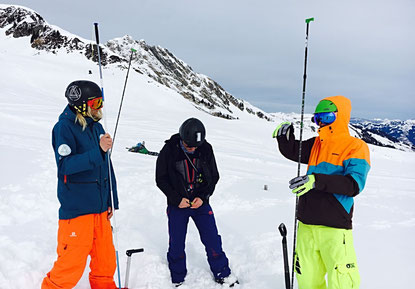 As we arrived at the top station we were finally away from the human slalom on the pistes.  But before we skinned up the splitboards and headed into the wild, it was essential to fresh up the LVS skills and knowledge.   Although the Avalanche danger was not high that day, it is always better to be prepared than sorry!!
After a introduction to the splitboards and a ''how to'' for the hiking technics we started the first ascent.  Our tour plan was a chilled loop bringing us to Aschau and snowboarding back to Jochberg.  With beautiful nature, and surprising good snow conditions it was good be far away from the crowded slopes.  
The second day started with achy legs, sunshine and spring feelings on the chairlift to Bichlalm.  On top we waited for the ''Snowcat'' to take us a little further up and save some energy for the long day we had planed.  The good thing about taking the "Snowcat" is having a ride down before hiking up.  With big smiles on our faces and a ''powdery'' first run it was time to take the jackets off and put the skins on the boards. 
After a good 350hm and roughly 2.5km we arrived on the peak and enjoyed the beautiful view along with a ''Jause''.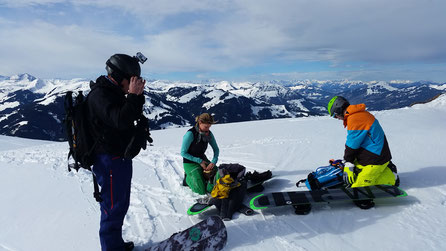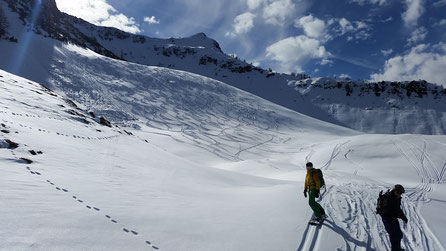 The north faced bowl from the top and the wide open field had some sugary snow in it, unfortunately not untracked, but still awesome to ride.  The further we got towards valley we found rising temperatures and less snow.  After a little walk through the forrest we were able to strap the boards on again and continue riding to the finish point, where our Taxi was already waiting for us.  Satisfied and happy, but a little tired after a long day the Taxi drove us to the Train station in Fieberbrunn. From Fieberbrunn we took the train back to Kitzbühel and said our "until next times" at the car park.   
All together it has been two awesome days with a really lovely group of snowboarders, who found their love for Splitboarding!!! ;)
#NoPowderdaysWithoutFriends. 
Love&Peace
Markus