Thank God Summer is Over!
There is no such a thing as a off-season. We were really busy organising and planing some unique and exciting camps for you, along with our original camps from last season. Find below all the new dates and camps and a short description of what to expect.
| | | | | |
| --- | --- | --- | --- | --- |
| Basic Camp | 27.1.18 | 28.1.18 | 269,- pro P. | Info |
| Basic Camp | 17.2.18 | 18.2.18 | 269,- pro P. | Info |
|   |   |   |   |   |
| Advanced Camp Kelchsau | 9.2.18 | 11.2.18 | 369,- pro P. | Info |
| Advanced Camp Kelchsau | 9.3.18 | 11.3.18 | 369,- pro P. | Info |
| Advanced Kombi Camp Gastein | 2.2.18 | 4.2.18 | 399,- pro P. | Info |
|   |   |   |   |   |
| PowSurf Gastein | 23.2.18 | 25.2.18 | 499,- pro P. | Info |
| Carving Camp Söll | 17.3.18 | 18.3.18 | 249,- pro P. | Info |
| The Steeps | 13.4.18 | 15.4.18 | 499,- pro P. | Info |
|   |   |   |   |   |
| Backcountry Safety Camp | 6.1.18 | 7.1.18 | 299,- pro P. | Info |
| Backcountry Safety Camp | 20.1.18 | 21.1.18 | 299,- pro P. | Info |

 
 
 
---
What's new this season?
To heat things up, there are a few new happenings in our camp-range this winter.  Working together with some big names on the snowboard market, local Snowboardguides and well selected locations, we offer you unforgettable weekends and some unique Snowboard experiences.
---
1. Carving Camp
In this Camp we want to show you that there is more to snowboarding than just freestyle and backcountry riding.  The unique feeling of carving a Snowboard on the edge, working with the centrifugal forces before you get slingshot into the next turn, is something everyone should experience.
Along with Peter Bauer, 4x World Champion, Amplid ::: next level riding ::: and Salomon Snowboards, Deeluxe Boots and Skiwelt Wilder Kaiser we are going to spend a fun weekend in Söll, bringing you back to the roots of Snowboarding.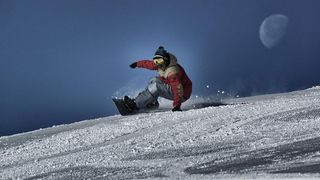 ---
2. Powsurfer Camp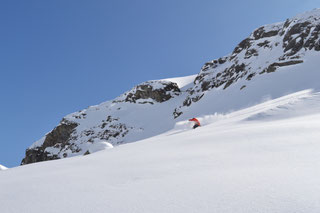 We are proud to announce the first organised Powsurfer Camp in the history of Snowboarding.
Snowboards without Bindings are not really something new on the market but the technology of boards and boots has changed dramatically over the years.
Powdersufing is on the uprise and more brands start to appear on the market specialising on high-tech shapes and constructions for a more ''surf a like'' feeling on snow.  Even DEELUXE decided to create a boot just for that purpose and are supporting us along with the two hottest Powsurfer brands Äsmo and Konvoi for this camp.
---
3. Advanced Kombi Camp Gastein
Why just stick to one if you can have both.  At the kombi camp we combine lift-supportet free riding and touring on one weekend.  Sportgastein is a place with endless opportunities for backcountry-riding with plenty of runs over 1500 meters down and valleys for touring so remote you hardly see any one hiking and riding in there.  Based just 2 minutes by foot away from the Gondola station we have all the opportunities we need for an unforgettable weekend.  Not to worry if you don't have your own splitboard, we provide you with the best on the market so far.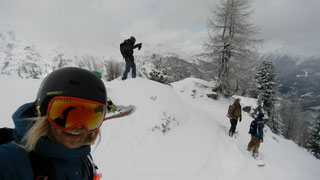 ---
4. The steeps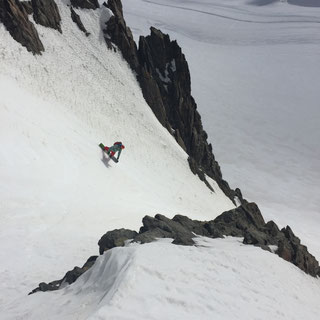 Also new on our list this winter is ''The Steeps''.  The name says it all, in this camp splitboarders can get the full experience of a mountaineering like adventure.  Ropes, crampons and ice axes are all part of our equipment list to reach steep gullies, peaks and untouched terrain. This camp is for riders who want to challenge themselves but don't dare to do it alone.  Our Base for this weekend is in Ötztal, where we have some of the highest mountains in the Tyrolean Alps.  Working together with local guides they provide you with the necessary know how and the best riding spots fitting to this camp.
---
5. Advanced Camp Kelchsau
Oldie but Goldie! It was such a success last winter, that we have decided to host the camp in the beautiful region of Kelchsau again.  Staying up in a Hut at 1700 meters, we start our tours after a breakfast with a view and no stress.  The Kelchsau offers plenty of touring opportunities with stunning runs, true to the motto - ''everybody's darling''.   This camp is truly something special connecting you with nature and bringing you endless powder runs.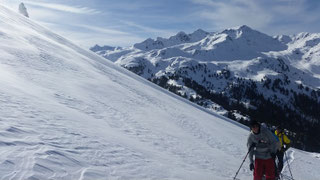 ---
6. Basic Camp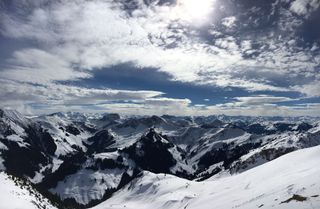 Of course we also think about the future of splitboarding and want to give people the opportunity to set foot within this beautiful sport.  We provide all the equipment you need, so you don't have to spend a fortune before you even tried it.  Showing you all the basic knowledge needed and guiding you on your first tour.  We hope to introduce some passionate snowboarders into the world of splitboarding!
---
7. Backcountry safety Camp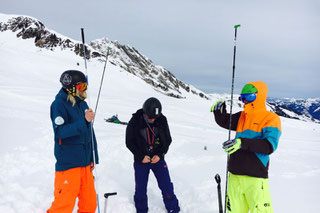 Last but not least and essential to freeriding and touring is the backcountry safety camp.  
In this camp we pass our knowledge on to you about:
avalanche awareness and prevention,
alpine hazards,
LVS equipment and how to use,
the method to rescue and recover the avalanche-accident victims,
the basic knowledge about tour planing,
risk minimising strategies,
weather and snow,
how to behave in the backcountry,
must have, should have, could have
Sometimes there is no space for errors and miss behaviour in the backcountry.  To preserve peoples life and minimise the risk of accidents this is some knowledge every touring and freeride fan should have.
---
We are really looking forward to a snowy and safe season with lot's of touring and freeriding with you guys!!
For booking requests or any questions feel free to email or call us.
Perhaps the answer is in the FAQ's so please have a scroll through. 
Best regards 
the splitboard-camps.at team