Lyngen - Splitboarders heaven!
The Lyngen Alps, located way up north in Norway; and one of the best places on this planet for splitboarders. So naturally we had to take a trip there! We have constantly heard a lot about this place.. And the many wide open faces and steep narrow couloirs it has to offer. We got all excited, but as the day of our departure came closer, we started to check the local avalanche bulletin; Avalanche level 4 and it had been that way for days. The thought of being in an unknown country in unknown terrain and unknown snow conditions was scary. Level 4 is serious, massive avalanches can occur without anyone triggering them. But we still wanted to go and see this amazing place for ourselves. And we were not disappointed!
Next to the stunning mountains there is breathtaking wildlife and natural phenomenas such as the northern lights.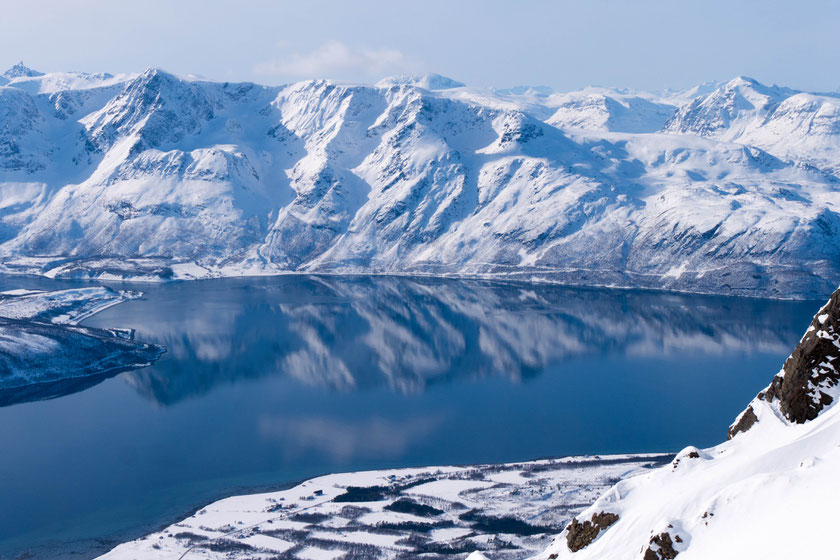 We arrived on Saturday evening with our accommodation about an hours drive from the airport. Driving on the icy Norwegian roads all the potential riding opportunities started to become visible. We were sitting in the car looking out of the windows like little kids that had just seen Santa fly overhead. There were so many possible faces to go down; steep faces with lots of couloirs, wide open mountains ending directly at the sea. And thankfully the avalanche level had dropped down to a 3, but still with a solid weak layer in the snowpack we needed to be cautious. We had heard from a crew who had been to Lyngen the week before, that they were pretty limited all week and couldn't do much as the weather was bad with an avalanche level that was too high.. 'Woomm' sounds everywhere!
So our first tour we planned safe so we were able to get a feel and opinion of the whole situation for ourselves. 'Rønestinden' the first peak of our trip, a little over 1000 vertical meters tour and an option of a moderate ascent. On the way up we saw an huge avalanche slab with a break easily over 1m in depth. So we chose the mellow line down the peak, but the wide open untraced face provided us with amazing powder and an amazing view on the sea. 
High up on our bucket list was a sunset run. As the weather was amazing with not a single cloud in the sky, we hiked up 'Stetinden' early in the morning which was completely worth it! After we had some time to chill before starting the second tour of the day up onto 'Rundfjellet', a mountain located on the north of the island with an amazing wide open west facing face. On the way up we tried to estimate how long the sun would be out, thinking that we might have left it too late to start hiking for a sunset tour! Our progress was slow as we were feeling the fatigue from the tour in the morning. But we made it in time to the top and timed our run down perfectly with the sunset.. Sunset snowboarding all the way down to the sea, unbuckling your snowboard right at the sea was an amazing feeling and should definitely be at the top of everyones bucket list!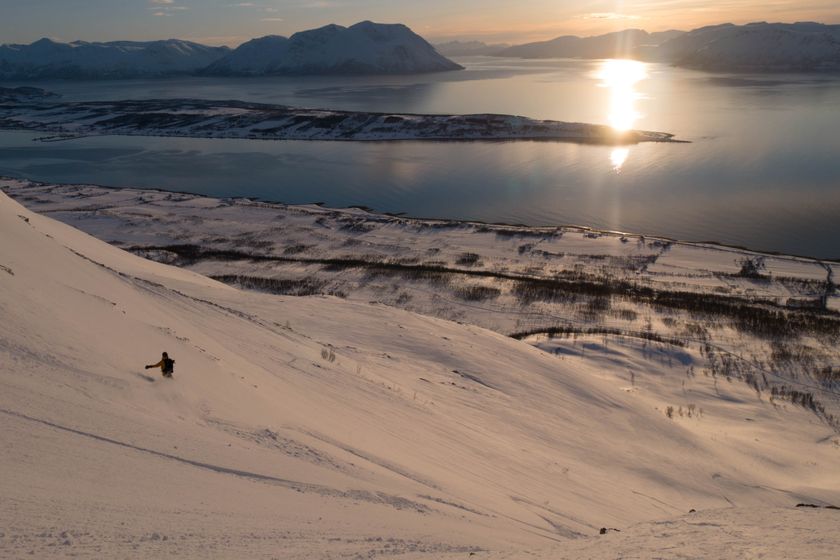 In the evening the sky was clear and the Aurora activity was high, so the chances of seeing the Northern Lights were quite slim. We kept checking for hours but saw nothing, but just when we we're about to give up, we spotted a weird looking line which kind of looked like a cloud but not completely the same. Suddenly it got bigger and a very light greenish colour started to glow (you couldn't write this!). We stayed out for hours to see if it would get bigger, and suddenly it did. We spotted more and more Northern Lights, the highlight was when they started dancing, just like you'd imagine it. We really didn't think that we would spot any Northern Lights, as a lot of people told us you need to be super lucky and we thought we were too late in the season. So to see such bright intense colours we were super lucky and so surprised! It really is such a cool experience and yes, they look even better than any camera could ever capture.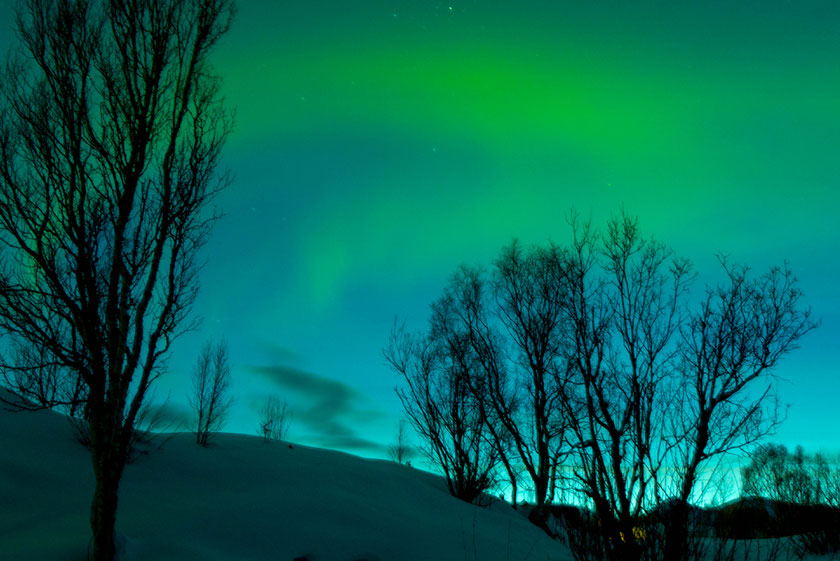 The next day we picked 'Rundfjellet' again, as we had seen a nice chute the day before. It was another nice sunny day with good powder. All the peaks we had reached so far were perfect for splitboarders.. No cat tracks or paths or any need to do unnecessary vertical meters. As well as no traversing, easy to hike up but super fun to go down!
Our goal was to eat some local fish, but this was more difficult than we had expected. We asked in the local supermarket but they just told us to go fishing, and unfortunately we didn't bring our fishing equipment. On the way home from 'Rundfjellet' we asked a local guy and he gave us the address of a local fisher. All excited on our way there, just to be disappointed as the fisherman had unfortunately not had much luck with his catches that day.. So we left empty handed :-(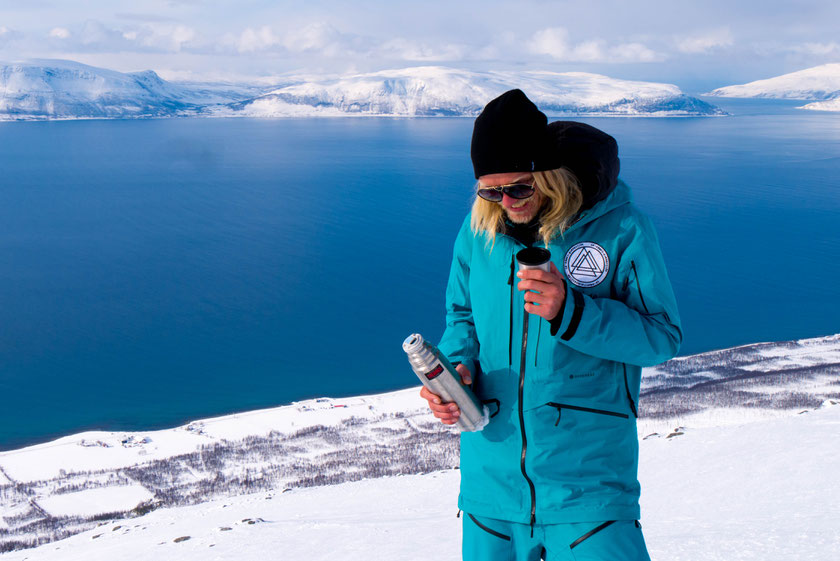 For the next day we chose a north facing slope, as we had stayed mostly E/S/W so far. Coming into the valley an amazing mountain range opened up, with more (steep) opportunities than we could have fitted into our whole trip. On the peak of the north face another "top of the bucket list" showed its full potential, 'the godmother of all couloirs' (this is its actual name). A 1200 vertical meter & 45-50 degree chute all the way down to sea. Unfortunately the avalanche level was still way too high to seriously think about doing it. But we dreamed, and we are still dreaming about it!
After our descent we decided to hike up the steep south face as we had seen a gnarly line on the east face. The hike was steep, hot and exhausting. But the east face was definitely worth the struggles.. A steep couloir filled with powder and amazing to ride.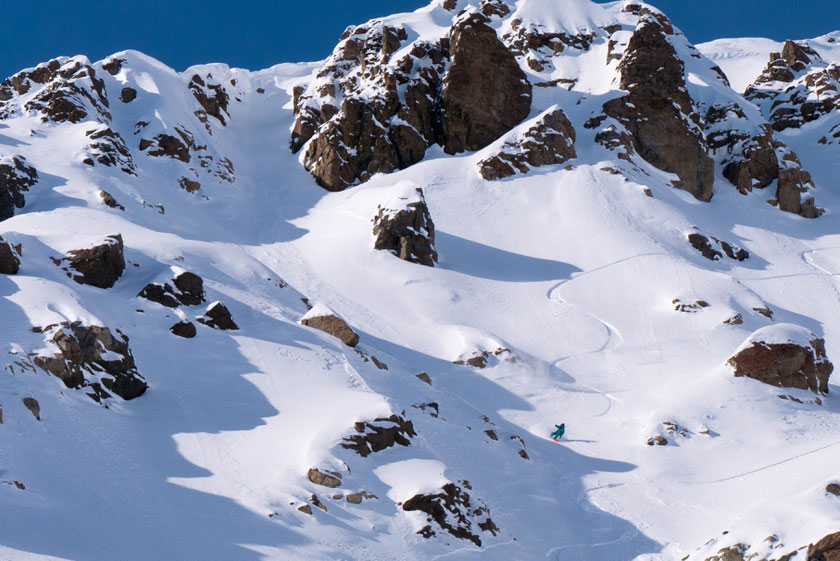 After so many new experiences and hikes we decided to have a down day. We spent the day just chilling at our little house sitting on the balcony, playing cards and watching the Fjord. Still on our hunt for fish, we gave it one more try asking at the local sports shop. They gave us the number for 'Hans' a local fisherman, and told us to call him in the afternoon to see if he had caught anything. Back on our balcony we suddenly spotted a huge eagle just in front of our house, coincidently on the same hunt as us. In the afternoon we drove to Hans and he showed us two huge Cod and some filets. He also gave us some homegrown Lyngen potatoes. When we asked him how much we owed him he didn't really say anything! So we offered him two bottles of Wine & a bottle of Schnaps in return for some great fish and spuds. He was super happy with the trade and so were we! Thank you Hans, you really helped cure our craving of having a locally caught fish.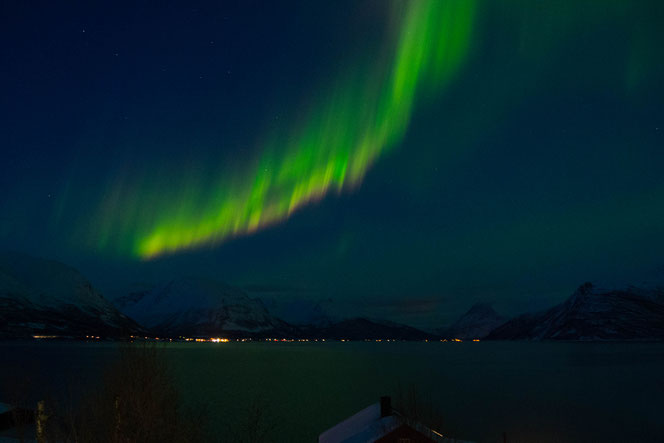 'Uløya' is an island further up north, not directly connected with Lyngen. It takes two ferries to get there. We took the first ferry at 7:20am because the next ferry which only should take 10min didn't leave until 8:30am. Standing on the deck and watching the amazing landscape of the Lyngen Alps we suddenly spotted dolphins. First we weren't quite sure if it really was dolphins but google helped us identify them.
After the first ferry we rushed up north to catch the second one, we made it just in time and got on board feeling happy with our time management. After about 20 min we realised that from this harbour the same ferry goes to two different ports and we got the timetable confused. And unfortunately for us the ferry had to go back to the harbour that we had just come from and then headed to our original destination. So what should have taken us about 10 min ended up in total 3 hours! Luckily the sun stayed out till 8pm so we would have had enough time, however the last ferry was going back at 7pm, so we had to be there in time since in 'Uløya' there is not much civilisation. We did the tour anyway and it was 100% worth it. Another epic run all the way down to sea with fresh powder and a stunning view. We made it back in time but had had enough of ferries for that day.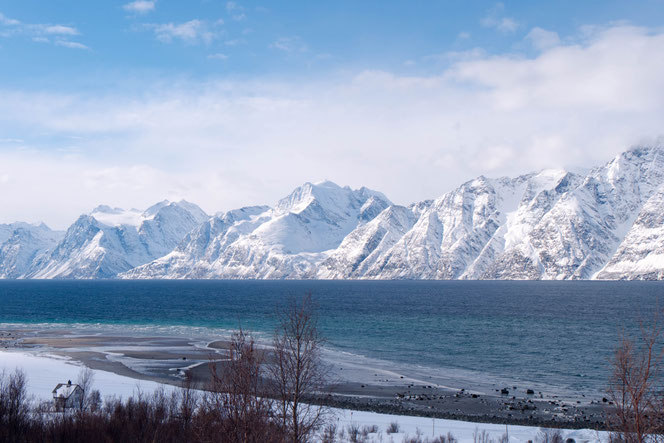 Later that week we spotted Elks on the way to our sunrise tour, as well as dolphins from our balcony again! Hans gave us so much fish that we had enough to last the rest of the week. After 10 days, Norway impressed us with more than we thought we would ever have experienced. Super happy and stoked by all this place has to offer, Norway will definitely be seeing us again. Stay tuned.. There might just be a camp up here! This place not only offers stunning nature and wildlife, it is also a splitboarders haven. The possibilities are endless, from steep to super mellow runs, wide open faces to narrow couloirs, untouched valleys to runs that literally end in the sea. Thank you, you northern beauty! We will be back for sure.
Want to join US next time?