Salomon's Premiere 4Piece Split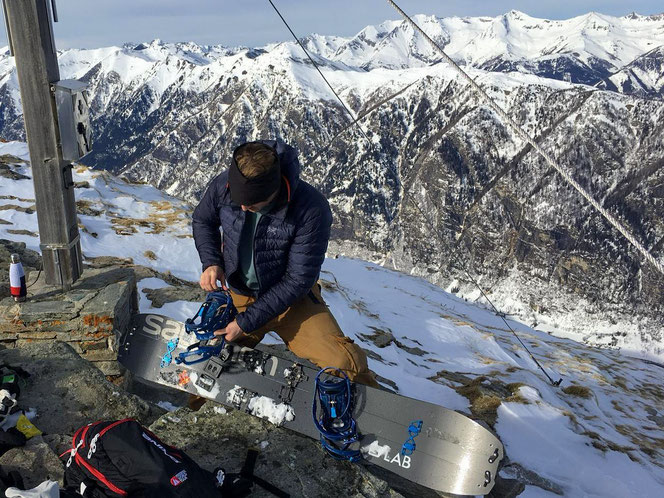 We were very skeptical at first.. An extra part to the "normal boards" we were used to, surely it takes longer to assemble? Will it be heavier? Stiff enough when riding?... Thankfully all our worries were completely demolished!
I wasn't really keen on testing this Splitboard, I really thought this is unnecessary and doesn't bring any advantages. Maybe to those who want to run up a mountain for thousands of meters, but not for me. All this was going through my mind at first. But I gave it a chance, anyway... Now I don't use anything else. I have to say, this board is great. It is true, the board is slightly heavier than a normal board. But while hiking you have a very light ski underneath your foot, which makes it a lot easier to walk up. Traversing is not an eggshell dance anymore. A hairpin turn suddenly is easy and doesn't make you feel like Bambi. The grip with the skins is a lot better than with the wider splitboards.
Assembling definitely takes slightly longer, but only around a minute to a minute thirty more. But on the other hand, you've definitely gained a few minutes on your way up. so the extra minute is completely justifiable. In terms of riding performance, I would personally prefer a board that is slightly more playful (but thats my personal taste). The board is very stiff, which is nice if you want to charge big mountain lines, but for an everyday Splitboard you need to find the right setting to make it a bit more maneuverable. However, charging big cliffs is smooth like butter due to its stiff tail. If you're looking for a fast big mountain board this is the perfect board for you.
Having a 4 Part Splitboard has definitely more advantages than disadvantages. This board is now my go-to board, whatever kind of tour I'm heading on, it's coming along with me. The only criticism would be to make it a bit more playful. But as I said earlier, it totally depends on your preferred riding style. Skinning uphill is effortless. Sure, you need a minute longer for assembling, but you'll definitely be more than a minute faster on reaching the peak. This board is not cheap, but it comes with skins & crampons. If you give this board a chance, you might be pleasantly surprised. I know we most certainly have been. 
Update: the 2020 model is a lot more forgiving than the 2019 model. It rides so much better also in powder. I used mainly the 159 Board but also the 165 Board is a lot smoother to ride. Absolute killer board!!
Total Score 8.5
Overall 8,5
Standart Tour 8
Extreme Tour 9
Piste 8,5    
Uphill 9,2
Spitzkehre 10
Spuren 9
Umbauen 7
Felle 9,5
Queren 10    
Downhill 8,1
Powder 8,5
Hardpack 8,5
Pop 8
Agility  8
Float 9    
General 7,4
Vereisung 7
Design 8
Shape 8
Preis/Leistung 8
Gewicht 7