Pow(d)er Food
---
with recipes at the end...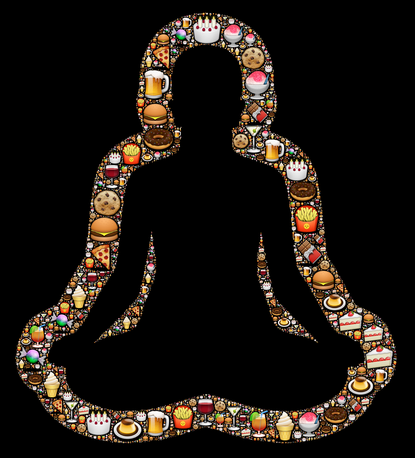 Before we start
Any active person should consider to boost their bodies with good nutrition before a touring day. 
Consuming easy digestible, low fat high fibre meals two to three hours before exercise will provide you with optimal performance. 
An ideal Pre-Workout Meal should be energising and filled with complex carbohydrates that take longer to break down and therefore enter the bloodstream slower  to demand top performance from our muscles, as well as top performance from our brain.
Avoid simple carbohydrates like; white flour products, sweets and sugary soft drinks, as these will lead to blood sugar fluctuations, and will subsequently affect concentration.
Most importantly, don't over eat. Our carbohydrate storages in the muscles and liver are limited anyway. A small portion is digested faster and provides more energy.
Before training, it is particularly important to drink enough fluids as well.
---
Before the Sport
No Pizza for Breakfast
Sometimes the touring day starts before sunrise!! For those who do not want to get up an extra 2 hours earlier than necessary we recommend a Breakfast-Quickie; non time consuming protein shakes or smoothies or Porridges.
Our good old favourite is a oatmeal porridge with flaxseed, variety of crushed nuts, fresh and dried fruits, milk (soya,oat,rice,coco) and a splash of honey. All essential elements are contained in this meal and will provide you with power to start the Hike, just takes a few minutes.
Really important is to avoid Coffee for breakfast if possible. Coffee causes hyperacidity in the stomach and thus disturbs the optimal nutritional intake of the food. Drink a cup of herb tee with some fresh ginger instead!!
*Isotonic drink for on the way;  a litre of freshly squeezed lemon water (with honey)
---
During the Sport
Easily digestive Proteins
During exercise the muscle has an increased need for amino acids, which is why we should be having protein rich snacks and meals on the way . This boosts protein synthesis, and thus promotes muscle growth while touring and after. Light snacks; like a date 'power bar' with nuts or fresh fruits like bananas and peaches are low-fibre foods. For endurance activities lasting more than a few hours, many athletes will also eat bars and/or drink sport drinks with additional calories and protein for sustained energy. Liquid food is digested faster and is another choice to consider. 
Protein-rich snacks to bring along; nuts, seeds, dried fruits, fresh fruits, oatmeal bars
Valuable are the "good" carbohydrates, which have a low glycemic index. This means that they do not cause the blood sugar levels to rise too much - but still provide our body with plenty of energy over a longer period of time. The goal is to provide sustained energy through a gradual rise (not a spike) in energy followed by a similarly gradual decline.
Complex carbohydrates are found, in wholemeal bread, beans, whole grain (eg. spelt), veggies, legumes. 
Keeping your body hydrated during sport is the most important!!
Highly recommending to bring not only a bottle of water but also a flask of warm tee (preferably with honey) and some sort of isotonic drink* (lemon water) in a bottle.
Bread and cheese are for the peak and should not be consumed during the hike ;)
---
After the Sport
Time to feast
Celebrating a good Tour with an alcohol free ''Weißbier'' is a good start. 
Now its time to give back to your body what you have taken from it. 
After exercise, the body begins to replenish the glycogen stores and repair the muscle proteins. If the body gets the right nutritional values during this phase, regeneration phase is accelerated. Especially carbohydrates and proteins are very effective after exercise. 
In order to support the body optimally with regeneration and to get the highest training effect it is important to choose the right foods. As a rule of thumb; the easier foods are digested, the faster the nutrients can be absorbed by the body.
Extremely nutritional and easy to digest:
Sweet potatoes / potatoes
Quinoa
Pasta
Rice
Fruits
Eggs
Joghurt (plain)
Cream Cheese
Nuts
Avocados
---
Power from Veggies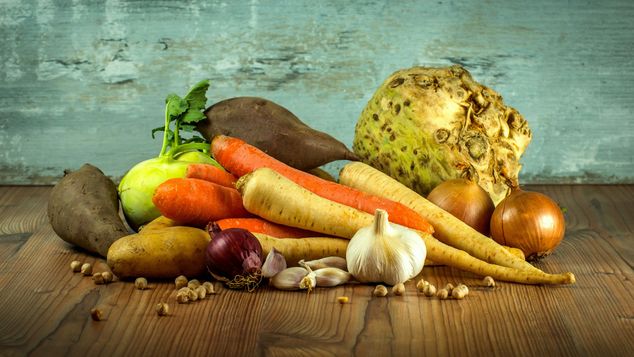 To support the Vegetarians there are plenty of options to keep your body fit and healthy.
Protein sources are not only found in meat and fish products, there are also many vegetarian protein bombs that you may not have know about.
Eggs and Milk products:
dairy products contain a lot of proteins
Legumes:
beans, lentils, soja beans (source of proteins and carbohydrates)
Nuts:
nuts contain a lot of fat, consume only in moderation, they also contain a lot of proteins and good omega-3 acids.
Vegetables:
spinach and broccoli are the protein bombs amongst the 'veggies'
Cereal Products:
certain cereal products such as oatmeal also have a rich protein content
Seitan:
Traditional Japanese product, rich in proteins and carbohydrates can be used as meat substitute
...to name some of the possible options for veggies...
---
The who is who
Calories: The number of calories you should take in during activity are estimated by the intensity, the length of the activity and your body type.
Carbohydrates: Main energy source should be complex carbohydrates, so the higher the level of activity and duration, typically the more carbohydrates you will need to consume.
Protein: is great for helping your body rebuild tissues and recover after exercise/activity. It can also provide sustained energy on long endurance activities.
Fat: Most energy foods are relatively low in fats. Some items that are designed as meal-replacement bars or specifically for endurance athletes will contain more fat.
Sodium: more commonly known as electrolytes, the above listed ingredients are also essential in metabolising carbohydrates for proper function of muscles and to help keep you hydrated.
Potassium: is equally essential in metabolizing carbohydrates for proper function of muscles and to help keep you hydrated.
Vitamins and minerals: Your body naturally burns vitamins and minerals through exercise and activity, so many energy products include them.
Amino acid blends: Leucine, valine and isoleucine are often added to gels only and are basically proteins that are broken down and used by the body to help construct muscles and keep them in good shape.
Sweeteners: A variety of caloric sweeteners are used instead of sugar in some performance beverages, gels and chews, including honey, agave and stevia.
Caffeine: Some bars, gels, chews and drinks contain caffeine to give you an extra energy boost. Caffeine-enhanced products are usually clearly marked; If you prefer to avoid caffeine, take note when selecting.
---
Recipes
Already finished protein shakes from protein powder, are often made with ingredients that are not very high quality. In addition, the nutrients contained (especially protein and vitamins) are manufactured artificially. Other ingredients include dyes and artificial flavours - not the best for a healthy working system.
Stick to Organic food, for cooking, shakes and smoothies use fresh ingredients and make it ourself, your body will thank you for it.
Before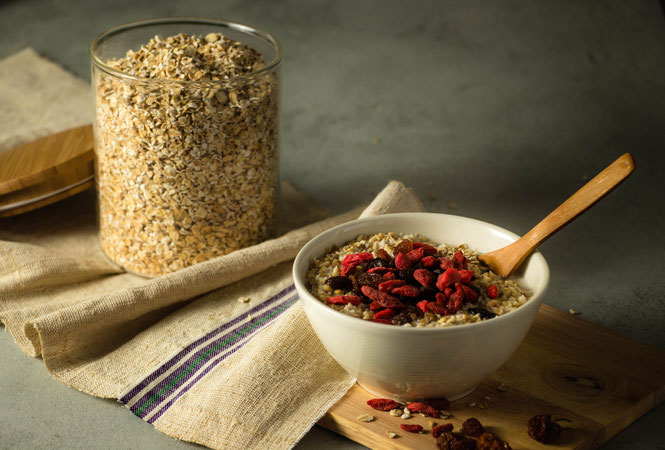 Müsli:
-6 tbsp oatmeal; 1 tbsp wheat bran; 1 tbsp flaxseed; 1 tbsp pumpkin seeds; 2 tablespoons of dried fruits; 150 ml of natural yoghurt; 3 tbsp veggie milk; fresh fruit like banana. 
Mix it all together and enjoy cold.
Porridge:
-100 ml veggie milk; 5 tbsp whole grain oatmeal; 1 tbsp sunflower seeds; 1 tablespoon of flaxseed; 1 fresh fruit of choice; some grated ginger; some cinnamon
Cook the milk, the oatmeal and seeds for a couple of minutes till it gets a bit slimy, add the fresh fruits and cinnamon; enjoy warm
Banana ''Schmarrn'':
-Mix together 1-2 bananas and the egg whites from 4 eggs, fry in coconut oil and serve with cinnamon like a ''Kaiserschmarrn''. Can be used for take away as a litte protein snack as well
Protein Shakes:
Banana shake - 170 g curd, 1 banana, 400 ml veggie milk, 1 tbsp honey, 3 tbsp grated almonds
Mix and mash all ingredients with a hand blender.
Berry shake - 150 g of curd, 200 or 250 ml apple juice, 5 tbsp oatmeal, 100 g (frozen) berries, some agave
Mix and mash all ingredients with a hand blender.
---
During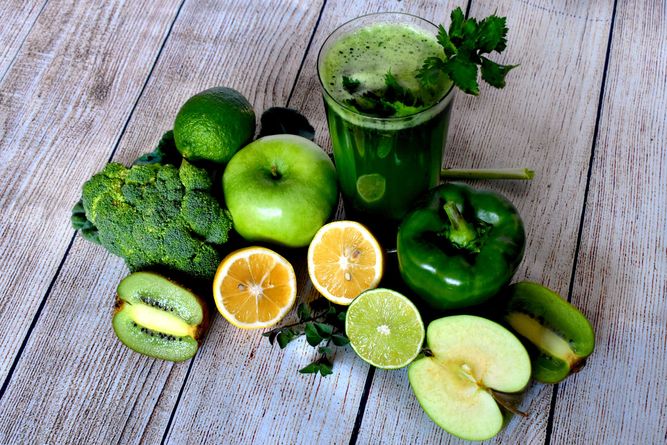 Date-Cocoa bar:
- Dates 275g; Almonds 100g; Cashews 75g; Cocoa 50g
Blend all ingredients and spread the mass on a baking tray. Leave it for a few hours to dry. Cut the the mass into equal parts (bars) 
*tip: soak cashews overnight makes them easier to process + digest  
Banana-Date bar:
-250 gr oatmeal; 130 gr dates; 3 bananas; 70 grams of melted coconut oil; 50 grams of chocolate drops(vegan if preferred); 30 gr chopped Almonds
Preheat the oven to 170 degrees. Process the Dates into a smooth mass. Peel bananas and squeeze them with fork. Add all ingredients into bowl, mix thoroughly. Pour mass into a ovenproof container and place it onto a tray with baking paper. Bake for approximately 25 minutes. Cool down before cutting into bars.
Keep the cereal bars in the fridge for storage.
Smoothies:
Green muscle power:
-2 handful of spinach leaves; 1/2 cucumber; 1 apple; 1 kiwi; 1 banana; 1 carrot; 1/2 avocado; little piece of ginger; water
Mix it all together and blend it! Et voila
Red Active to go:
-1 raw beetroot; 1 apple; 1 orange; little piece of ginger; coconut water
Mix it all together and blend it! Et voila
Orange Workout:
-2 oranges; 2 handfuls of broccoli (including leaves and stems); 1 handful of almonds (peeled, soaked overnight); water 
Mix it all together and blend it! Et voila
Tee:
Also a thermos flask with a hot herb tee with honey. Keeps your body warm, hydrated with a healthy sugar kick.
Fruits:
Fresh fruit like banana, peaches or apples are a good snack on the hike as well
---
After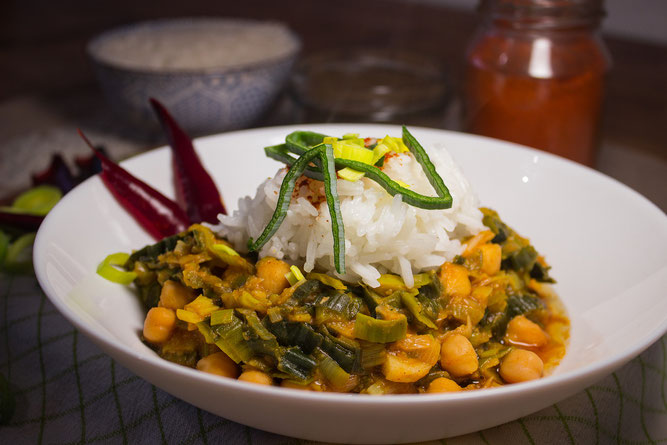 Vegetarian Chilli:
- 65g red lentils; 100g of chickpeas; 1 onion; 1 garlic clove; 150g potatoes; 150g sieved tomatoes; 1 tbsp olive oil; 300ml vegetable broth; paprika powder; curry powder; chili
Peel onions and garlic, cut into small pieces and sauté in olive oil in a large pan . Meanwhile, peel, dice and add the potatoes. Rinse the red lentils briefly under water and at them to the pan. Deglaze with vegetable stock and simmer for 30-40 minutes, until the potatoes are through and the lentils crumble softly.
Drain kidney beans and chickpeas and add it to the pan. Stir in the tomatoes. Let everything get hot agin.
Season with the spices and serve.
Chickpeas-Coconut Curry:
- 80g rice; 1 onion; 2 spring onions; 240g chickpeas from the tin; 2 big handful fresh spinach; 2 tsp oil; 
200 ml vegetable broth; 100ml coconut milk; 20g cashew nuts; Curry powder; salt; pepper
Cook rice according to the instructions on the package. Peel and dice the onions, cut the spring onions into rings and fry them with oil in a pan. Add chickpeas, season with curry and deglaze with coconut milk first, wait a few minutes and then apply the vegetable stock. Add cashews. Simmer for 20-30 min, then reduce the heat and add the spinach.
Season with salt and pepper and serve with rice.
Quinoa Burger:
- 2 burger rolls; 100g quinoa; 2 egg; 20g flour; 4 tablespoons oil; 1/2 carrot; 1 small onion; 1 tomato (sliced); 
2 tbsp guacamole; ketchup; 2 large salad leafs; pepper, paprika, curry, ground cumin
Prepare quinoa according to the instructions on the package.
Peel the carrot, skin and dice the onion and fry it in a pan with half the oil. Add spices.
Mix the contents of the pan with the quinoa in a bowl. Season with salt.
Add egg and flour and knead carefully to a mass. Heat the rest of the oil in a pan, shape the patties with the dough and roast from both sides until golden brown.
Assemble the burgers with salat, tomatoes and veggies of your choice, some sauce like guacamole or ketchup or what makes pallet go crazy and there you have a delicious Burger.
---
This blog is purely to inspire you and inform of some of the many possibilities out there. Of course there are many more options and varieties of healthy foods and meals to prepare for a perfect touring day... 
Thank you for reading,
N'joy all the delicious meals and homemade snacks on the next pow(d)er days!!!